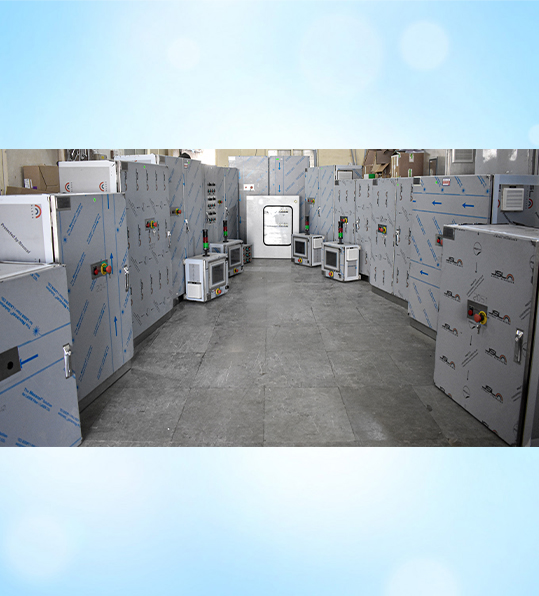 Control Panel Manufacturer in India
Electropoint Process Automation Pople
We at ELECTROPOINT AUTOMATION PVT. LTD. is leading company in field of complete engineering solution providers, control panel manufacturer established by us having wide experience in field of Instrumentation and process automation. We are one of the leading organization as a single source of complete solution provider for Dairy, Pharmaceutical, Sugar, Breweries, FMCG, Juice and beverage segments and many more. As a solution provider we at Electropoint act on values & approaches which are thorough customer oriented and client friendly. We have Supported & partnered with the top manufacturing brands in the industry to offer complete, turnkey solutions. Our expert team is equipped with latest software like eplan, solid works for designing and committed to help/support customers in solving their most complex process needs. We assure to provide the best possible and latest technology based solution from concept up to commissioning level. We are involved in providing customized engineering solutions, application engineering, marketing and selling solutions.
We are regularly supplying and expert in
Complete in house manufacturing of Control panels for Food and dairy industry like PLC/HMI/SCADA control Panel for pasteurizer plant, CIP operation, Powder Plant, Paneer Plant, Ice cream plant, Homogenizer, Separator, etc. and other various operation of dairy segment with capability of complete engineering, supply, site erection and commissioning. Apart of these we are also familiar brand with supply of PID/data logger panels, variable Frequency Drive panels, MCC control panels, Electric Heater Control panels and any customize panels based on customer's specific requirement.
Engineering, Supply, Erection & Commissioning of all type of process Instruments like-
➢ Pressure Gauges, Pressure Transmitters, Pressure Switch.
➢ All type of Flow meters ( Orifice, Magnetic, Vortex, Turbine, Oval, Mass Flow meters etc), flow switch.
➢ Level Transmitters, Level Switches.
➢ RTD, Thermocouples, Temperature gauges, Thermostats, Infrared thermometer.
➢ Conductivity meters ,pH meters, Moisture analyzers, oxygen analyzers, CO2 analyzers, Opacity meters.
➢ Control valves, Actuator, Positioner, I/P Converter, Pneumatic accessories, Butterfly Valves, Gate Valves, Globe Valves, Strainers, check valves.
➢ Steam accessories (Steam Traps, isolation valves etc.), Siphons, Condensate Pots, Snubbers, Needle Valves, Ball Valves, Piston Valves, Safety Valves etc.
➢ Cables, Cables Trays and Cable accessories like cable glands, all type of Lugs etc.
➢ FDV, CPM valves for food & dairy industry.
➢ Industrial Pumps, Electric motors suitable to process requirements. In view of above, we would be glad to assist you for your requirements. Waiting to receive your valuable inquiries. Thanking you and assuring you of our best services at all times.
Trained Manpower
To handle the responsibilities of these units efficiently, we have appointed a team of experienced professionals.
Quality Material
Quality is the main concern of our organization and we are committed to provide our clients an excellent range.
Awesome Support
Over three decades of deep routed presence in the industry leading to a highly trusted relationship with every client.